[Please wait until after the pictures load before clicking on the music. Thanks!]
"Gone to the Dogs" & the following page, "Natural Equine Supplements" were a part of my 'old' site. [For those of you that don't recall,- it disappeared with the rest of Talk City.] My intention had been to omit these subjects on this 'new & improved' site but I've actually received requests that they be posted. As a result, I decided to once again include them. [Does this mean that people aren't just looking at the pictures? ;-)] Enjoy the read!

____________________

No tour of Cloughrinka Stables would be complete without meeting the canine contingency! No, we don't breed or show our dogs but they're still a very important & dear presence. To put it simply,- they're family! [...or in other words, if you don't like dogs, this probably isn't the best place to spend an afternoon...]

We're partial to herding dogs and so the pack includes: 'Indie', 'Gin' & 'Molly'- Australian Cattle Dogs [AKA- heelers], 'Ponch' - a Border Collie cross and 'Jack' - an Australian Shepherd cross.

This crew will work stock, protect the farm, carry on a never ending game of frisbee and be tireless, loyal companions... even if they are a little too smart at times!

___________





[Just as a side note: Please support your local animal shelters and rescue groups. There are so many good dogs out there that need good homes.... Thanks!]

____________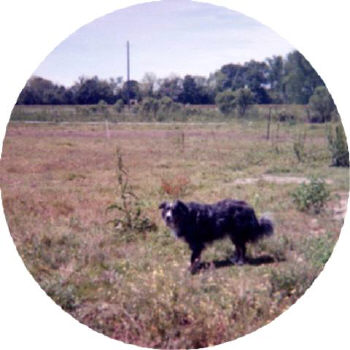 Jack is the resident senior statesman. 3/4 Australian Shepherd and 1/4 Rottweiler, he's often referred to as a "Rot N Aussie".

Jack is a guardian of the first degree, loves to 'shake hands' and is one of the most loving companions anyone could ever wish to know. Although he was born in a horse barn about a dozen years ago, one of his favorite winter places is in front of the fireplace.
____________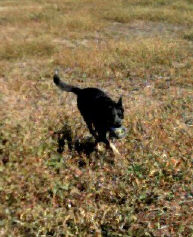 Indie is short for the 'Indigo Dingo' or 'too expletive deleted Independent',- it just depends on what kind of day it's been! Anyone who lives with a cattle dog will tell you it's like having an additional shadow. In my case, I have two extra shadows & Indie is one of them.

To be precise, Indie is an Australian Cattle Dog. [I've had 'heelers' for over 20 years & I wouldn't know how to exist without them. Gotta love those "Bluies"!] Typical of the breed, she's incredibly smart, loyal and has enough energy to put the Ever Ready rabbit to shame!

A great frisbee dog, at 5 years of age, Indie is starting to mellow a little. You'll always know if I'm working a horse in the pen,- she'll be stationed by the gate watching.
____________

Cattle dogs aren't the breed for everyone. For some of us, though, it's just about the only breed. If you think you might be so inclined, click below. There are a lot of great cattle dogs out there looking for great forever homes. Good luck & I hope this link helps someone!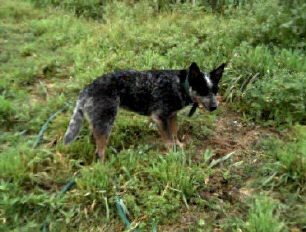 Gin is another Australian Cattle Dog. I take that back,- Gin isn't 'another' anything! She's always within reach & is my fiercest protector. It's not unusual for me to wake up in the morning to find her sitting over me, patiently [?] waiting for our day to begin. [Please note,- having an ACD means never going to the bathroom alone!] Gin has been called 'intense'. She's all the things that you expect of a heeler,- super smart, energetic & as loyal as the day is long.
If you were wondering about her name, it follows the logic that a cattle dog is, after all, a 'beef eater'. Gin was brought to us through the efforts of a herding dog rescue group & I am forever grateful!
___________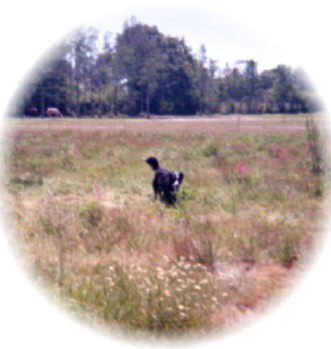 Poncho is a Border Collie cross whom we found [when approximately 8 weeks old] abandoned on the side of a busy four lane. I think we all won the day we stopped and picked him up!

Although he occaisonally suffers from selective hearing [don't they all...] Ponch is pretty much the epitome of an all around farm dog. He'll herd stock [sometimes even when it's a planned event!], barks when someone pulls up to the barn & terrorizes the squirrels.
____________